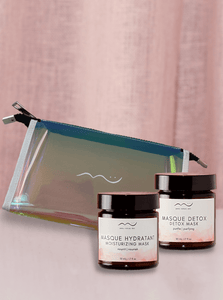 Want to show your love and appreciation?
Our one-of-a-kind gift sets are the ideal way to treat that special someone on Valentine's / Galentine's Day

This Sweet Pair is ideal for those who believe in the « two is better than one » saying !  The first application, the detox mask, purifies the skin without drying it out.  The second application, moisturizing mask, nourrishes and brightens for a radiant skin.
Contains:
One (1) MÜ Holographic cosmetic pouch bag
One (1) MÜ Detoxifying Mask
One (1) MÜ Moisturizing Mask
We will include a handwritten note (copy one of the messages below into your order's notes or include a short message of your own) and deliver it right to your loved one's door. (Don't forget to enter their shipping address and name when prompted!)
Check out all ten (10) Valentines Day gift sets options here.
Anonymous Valentine's / Galentine's Day Messages:
You're beautiful and

 

je t'aime!
You make all the difference, thank you.
Having you in my life brings me joy.
You brighten my days.
Since we can't hug, here's a little special something.
Something to show you just how much I appreciate you.
A little special something to say thank you for being you.
Distance makes the heart grow fonder.
Thanks for sticking around.
Write your own and include it in your order's notes!
Want more information?
Learn more about the company.
Read about shipping and our FAQ.
Explore the MÜ Care Treatments. 
Still have questions? Feel free to contact us.