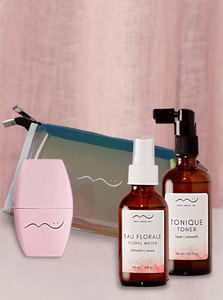 Want to show your love and appreciation?
Our one-of-a-kind gift sets are the ideal way to treat that special someone on Valentine's / Galentine's Day
Because a quickie is often fast and efficient, the Popsi-MÜ is just as much fun to wake-up to, to de-puff the face before applying the face cream or to tone the body and face before going out.
Pour the toner or floral water through the tip of the Popsi-MÜ, freeze it for at least 4 hours.  Once the Popsi-MÜ is frozen, massage the desired area to reach your skin's glow peak.
Toner: to purify, invigorate and moisturize the skin.
Floral water: to decongest, enlighten and soothe the skin.
Contains:
One (1) MÜ Holographic cosmetic pouch bag
One (1) MÜ Toner
One (1) MÜ Floral Water
One (1) MÜ Popsi-Mü 

We will include a handwritten note (copy one of the messages below into your order's notes or include a short message of your own) and deliver it right to your loved one's door. (Don't forget to enter their shipping address and name when prompted!)
Check out all ten (10) Valentines Day gift sets options here.
Anonymous Valentine's / Galentine's Day Messages:
You're beautiful and

 

je t'aime!
You make all the difference, thank you.
Having you in my life brings me joy.
You brighten my days.
Since we can't hug, here's a little special something.
Something to show you just how much I appreciate you.
A little special something to say thank you for being you.
Distance makes the heart grow fonder.
Thanks for sticking around.
Write your own and include it in your order's notes!
Want more information?
Learn more about the company.
Read about shipping and our FAQ.
Explore the MÜ Care Treatments. 
Still have questions? Feel free to contact us.